Dare to do what you dream! – SBW Alpha meeting 2023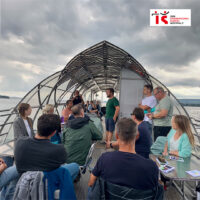 "Wage, wovon du träumst!" or in English "Dare to do what you dream" is the title of the SBW claim - a strong challenge that we as a management team are passionate about pursuing and lies at the heart of our education. The whole aspect of following our dreams was reviewed, discussed and "lived" during our spectacular SBW Alpha meeting.
From the captain who gave up his career in professional ships to working on board a solar ferry on Lake Constance, providing visitors an environmentally friendly alternative to touring this beautiful region, to the finance manager whom is following his passion of baking his own bio amaretti; our Kader team were given plenty of opportunity of experiencing first hand the true meaning of following our passions.
Thank you to the SBW Head Office team for providing such a memorable experience!
#daretodowhatyoudream #followingyourpassion #risktaking #sbwhausdeslernens