ISW focuses on our vision of Global Citizenship through Service Learning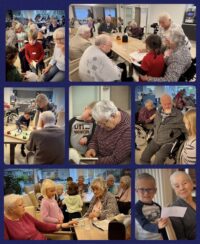 What if you could take all the amazing things about kids — like their honesty, energy, or optimism — and all the best things about seniors — their stories, patience, and worldly wisdom — and put all that magic in the same room?
ISW has made service learning and learning within our community part of our school wide vision. Growing in Global citizenship and establishing a global identity starts with getting out into our own community. This week the reception class visited our neighboring senior living home Caritas-Altenzentrum St. Nikolaus. The learning partners shared common stories like fables and fairytales and were read to by their senior buddies. The intergenerational activities of singing common childhood songs, playing games like tic-tac-toe, and sharing favorites were not only enjoyable, but engaging. The children also got to rehearse the St. Martin's Day songs learned in German Class. We were treated by our hosts with delicious gingerbread and other holiday traditional cookies. At the end of our time, learning partners extended an invite to our new friends to join in or watch the St. Martin's Day procession.
Taking pride in real-world teaching is at the heart of our mission and partnering with not only seniors who have untapped resources, but these wonderful older folks who also speak German has been very practical. The students thought they were just going to sing songs and play tic-tac-toe with their senior buddies, but they got lessons in so much more. The mentors from ISW could see the partners learning about everything from problem solving to empathy. Whether it's links to the global values of communication by imparting those values and wisdom, building their attributes and learning profiles, becoming authentic changemakers or innovating for a better future, this is why education of this kind creates a better future for our community.
We are so thankful for our new partnership with our dear new grandfriends and we hope to cultivate this relationship further. ISW mentors are in agreement that quality early learning will achieve lifelong benefits with prosocial attitudes, beliefs and behaviors to create knowledgeable global citizens by networking and connecting with others in the real world. This symbiotic relationship creates a more innovative and sustainable educational solution that will generate impactful leaders of tomorrow.